Belgium: building brought down by blast in Antwerp
Comments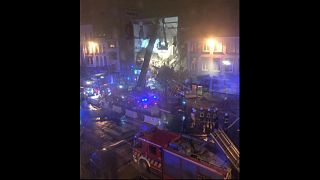 Several people have been injured after a blast brought down a residential building in the Belgian city of Antwerp.
Police say they do not believe the incident was terror related, with state broadcaster RTBF reporting the collapse was most likely caused by a gas explosion.
Belgium has been on high alert since deadly suicide bombings in Brussels in 2016.
Though three people, including a child, had to be pulled from the rubble, those injured in Monday night' s blast are not believed to have sustained serious injuries.