50 people flee after casino shuttle catches fire, leaving 1 dead
Comments
By Alex Johnson and Andrew Kozak and Michelle Acevedo and Kalhan Rosenblatt with NBC News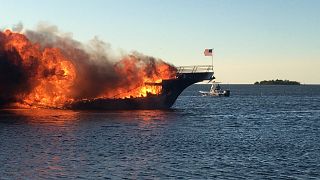 -
One person died after dozens of people jumped more than 10 feet into frigid winter waters after the shuttle ferrying them to a casino ship off the Florida Gulf Coast caught fire, authorities said Monday.
All 50 passengers aboard made it to shore Sunday, the Coast Guard told NBC News on Sunday night. One woman died after she arrived at a hospital emergency room, said Kurt Conover, a spokesman for Regional Medical Center Bayonet Point.
The 42-year-old woman died at 10:42 p.m. ET, said Kevin Doll, a spokesman for the Pasco County Sheriff's Office.
The woman went to the ER hours after the fire occurred, Conover said. Her name wasn't been released, and a cause of death hadn't been determined.
Eight other passengers were treated at and released from Regional Medical Center Bayonet Point, Conover said. In total, about 15 people were treated at hospitals for minor injuries and as a precaution for hypothermia, police said.
The shuttle caught fire at about 3:30 p.m. ET Sunday as it was making its way to the Tropical Breeze Casino Cruise, according to Beth Fifer, the casino's assistant chief executive.
Port Richey Police Chief Gerard DeCanio said the captain saw smoke from the engine and turned the boat around. Then he started having engine trouble, said DeCanio, who said the captain had been reporting engine trouble before Sunday.
DeCanio said there was no suspicion of foul play.
Fifer said it was the first such incident since the shuttle began operating in 1995. Shuttles are needed to ferry customers to the casino, which operates in the Gulf of Mexico because it's not allowed on land in Florida.
Qaadia Culbreath was on board preparing to celebrate his upcoming 30th birthday when the fire broke out. Culbreath, who said he doesn't know how to swim, told NBC News affiliate WFLA that he didn't see any life jackets when the fire began to spread and was told to jump.
"The guy that was in the water said, 'Man, jump, jump, jump.' I was like, 'Man, I can't swim.' So I was trying to climb off, and I was dangling off the metal hanger in the front of the boat because I didn't want to let go," Culbreath said.
As the boat headed to shore, Culbreath was able to navigate the shallow water to safety.