Fears of job losses in UK after Carillion collapse
Comments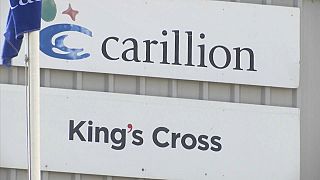 The UK is seeking to limit damage after one of the biggest corporate collapses in recent years.
Construction firm Carillion has gone into liquidation owing some one billion pounds forcing the government to step in to guarantee public services from school meals to road works.
The collapse poses a headache for Theresa May's government which had employed Carillion to work on 450 projects including the building and maintenance of hospitals, schools, defence sites and a high-speed rail line. Minister for Cabinet Office, David Lidington, was keen to play down job losses.
"The administration will be conducted in an orderly fashion," he said. "We as the government will continue to pay the wages and salaries of employees working on those public sector contracts."
The government's priority is to ensure that public services are not disrupted, he added, and he urged Carillion staff to continue to work..
Labour's business spokesperson Rebecca Long-Bailey wanted to know why the government carried on awarding contracts to Carillion when it was clearly in trouble.
Employing 43,000 people around the world, including 20,000 in Britain, Carillion has been fighting for survival since July when it revealed it was losing cash on projects and had written down the value of its contract book by 845 million pounds.