Skateboarding teaches young refugees how to fall — and get back up
Comments
By Ziad Jaber with NBC News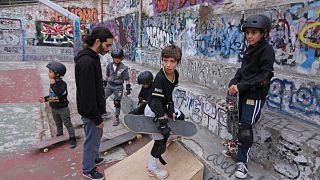 Copyright

Ziad Jaber NBC News

-
ATHENS, Greece — Skateboarders often say the sport is a metaphor for life: When you fall down, you have no option but to get back up.
Amid Europe's migrant crisis, Greece is now home to thousands of young refugees with plenty of getting back up to do.
Free Movement Skateboarding is a charity teaching children and teens who fled war-torn countries how to ride — and how to apply some of the tough lessons learned on the board to the even tougher challenges in life.
In a third-floor apartment in Athens' graffiti-covered Exarchia neighborhood, the British trio behind the charity recently prepared for another long and loud afternoon.
One of them, Ruby Mateja, 26, gathered roughly a dozen banged-up donated boards and replaced the metal trucks one by one. She then fastened the polyurethane wheels, scratched and blackened from carrying enthusiastic young boys and girls.
"You think about the boards that the kids are going to get excited about, and the ones they're actually excited about are the ones that are really broken and have no grip tape," said Mateja, spinning a wheel with her finger. She added that those beat-up boards are "the ones they love!"
Mateja met the other co-founder, Will Ascott, 25, during a volunteering trip to the West Bank in 2016, where the two worked with SkatePal, a charity organization focused on teaching Palestinian kids how to skateboard. They thought the same model could be applied in Greece.
They later struck a partnership with Help Refugees, a British nongovernmental organization which provides the bulk of their funding.
Last year, Meteja and Ascott drove a big white van from the U.K. to Athens. They now load it up with skateboards, pads, helmets and a "mobile skate park," a small collection of handmade skate ramps, before each session.
Since arriving in the Greek capital, the charity has organized more than 250 skate sessions at no cost — averaging more than 100 kids a week.
Overall, Free Movement Skateboarding has instructed over 1,000 children, the majority of them Syrians and Afghans who survived the treacherous journey across the Aegean Sea.
"A lot of them are refugees that have had trauma in recent years," Ascott said. "So it's sort of trying to ease that by giving them something to mindfully focus on while they progress."
The United Nations estimates that more than 1 million refugees and migrants arrived in Greece's southern islands since 2015, around one-third of them children. Most moved on and resettled in other European countries, but roughly 60,000 asylum-seekers remain in the country.
Skating sessions are loud and multilingual. They involve everything from stretching and a light jog, to wobbly foot placement for beginners and tackling ramps for the more advanced. The children clamor for — and quickly fall off — the newly refitted skateboards. But they spring right up and tenaciously try again.
"The kids are just captivated by it," Ascott said. "Especially kids from Arabic culture, who haven't really seen it before. It's something so new to them," he said of skateboarding.
"You show them, and they'll be immediately really excited."
For Mateja, the most rewarding thing about the project is inspiring girls and women to skate and seeing them discover a liberating physical outlet.
"You just see them feeling this emotional feeling that they haven't felt before, and it's pretty special to see," she said.
Abdel Latif Tamari,14, was so stoked for a recent session that he came early and helped Ascott unload the van.
He arrived from Latakia, Syria, with his mother about eight months ago. They live up the street from the basketball court where Free Movement holds some of its classes.
At first, he said he was "nervous and uncomfortable, even though I thought the skateboard was really cool."
Clutching an orange Free Movement skateboard, Abdel Latif said he wasn't the only one who was nervous.
"I told him, 'I'm worried you'll break something!'" said his mother, Khuloud Tamari. But after reassuring her there was safety equipment provided, she was glad that he had friends to play with for the first time since they arrived in Greece. "He's really happy now. He has people to speak to. He even calls up his brother in Germany to tell him, 'I did a new skateboard trick today!'"
It's the resilience that you learn through normalizing failure
For his part, the teen said he is happy to no longer be frightened by the thought of falling down.
"I was afraid to fall down," he said. "But then I fell down a lot, and I got used to it … so I lost my fear of it."
Learning to overcome that fear is one of the most important lessons the kids learn, Ascott said.
"Falling off is just something that's completely a part of skateboarding. It's a painful thing and it's just something that you've got to learn to deal with. It's the resilience that you learn through normalizing failure," Ascott said.
"Teaching yourself to pick yourself back up over and over again until you get where you want to, that's an important lesson," he added.
For Abdel Latif, it's a lesson he won't forget.
"It's given me more confidence," he said. "If you can master it, it's something you'll be really proud of."