Mario Testino and Bruce Weber deny sexual harassment claims
Comments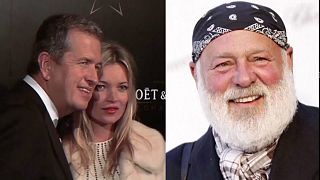 Conde Nast, publisher of Vogue fashion magazine, has announced its suspending work with celebrity photographers Bruce Weber and Mario Testino after sex abuse claims were made against the pair in the New York Times.
It's the latest scandal to hit the modelling world amid claims their behaviour and that of other famous photographers, such as Terry Richardson, was well-known but ignored.
Several male models and assistants accuse Testino, 63, a former favourite of Britain's royal family, of making unwanted sexual advances.
The allegations against Testino date back to the mid-1990s and include groping and masturbation, the paper reports.
Weber, 71, is accused by several current and former models of coercive sexual behaviour and unneccessary nudity.
Both men deny the claims and lawyers for Testino say the accusers can't be "considered reliable sources."