Israel destroys third tunnel in two months on Gazan border
Comments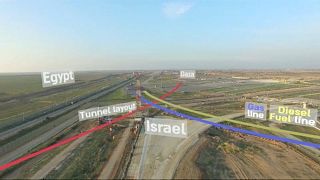 Israel says it has destroyed what it called a "terror tunnel" on its borders with Gaza and Egypt, and says it was used to allow gunmen to attack Israel.
The Israeli military says it is the third tunnel they have destroyed in the last two months.
Since President Donald Trump recognised Jerusalem as Israel's capital the number of rocket attacks from Gaza into Israel have increased, although there have been no victims. Prime Minister Benjamin Netanyahu has declined to blame the governing authority, Hamas. Israeli intelligence believes the attacks are from other groups.
The tunnels are the main means of supply for illicit goods into Gaza, and like the one demolished near theKerem Shelom border-point are also vital for many everyday necessities, as border controls to get goods into Gaza are long and costly.