Trump designates MLK historic site a national historic park
Comments
By Mashaun D. Simon with NBC News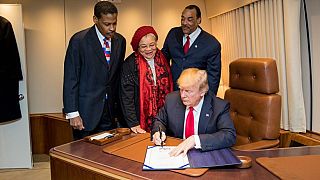 -
Copyright

Shealah Craighead White House
A week shy of the annual observance of Martin Luther King Jr. Day, King's birth home, Ebenezer Baptist Church and King's burial site have all been upgraded from a national historic site to a national historic park.
The Martin Luther King, Jr. National Historic Park Act, signed into law by President Donald Trump Monday aboard Air Force One, is one of the highest designations within the National Park Service. Trump said in a Tweet Tuesday it was "my great honor" to sign the bill.
Georgia Democratic Rep. John Lewis, sponsored the bill and said he is "so proud that we were able to work in a bipartisan, bicameral manner" to establish Georgia's first National Historical Park ahead of King's birthday and the 50th anniversary of his assassination.
"I hope that this moment will serve as a reminder of the constant work to realize Dr. King's dream of building the Beloved Community -- a community at peace with itself and our neighbors," Lewis said in a statement.
Bernice King, daughter of Dr. Martin Luther King Jr., said she is thankful to Trump for the designation.
"This act will increase the capacity of all of our collective efforts to preserve the shared work and vision of both Dr. Martin Luther King, Jr. and Coretta Scott King," she said in a statement.
The law also includes Prince Hall Masonic Temple. According to Lewis, the Temple donated land to the National Park Service in an effort to ensure King's story and the legacy of the Southern Christian Leadership Conference (SCLC) could continue being told to future generations.
The Temple served as the initial headquarters of the SCLC, which King co-founded in 1957. Lewis, who marched with King during the Civil Rights Movement, represents the 5th Congressional district, which includes the King Historic site. Congress initially established the site in the fall of 1980.
While the law changes the designation of the site to a park, the benefits of the designation are significant, said Lewis last March in a release. Not only does it create the first national historic park in the state of Georgia, but it also improves "the way the National Park Service preserves, shares, and presents the history of Dr. Martin Luther King, Jr."
"For many years, I worked with my congressional colleagues and the National Park Service to preserve these Atlanta landmarks and to enhance visitor experiences and services," Lewis said. "In addition, the National Park Service wanted to improve the presentation of the historic landmarks, which are integral to Dr. King's legacy and Atlanta's role in the American Civil Rights Movement. These changes required an Act of Congress."