Fujimori supporters rally in Peru
Comments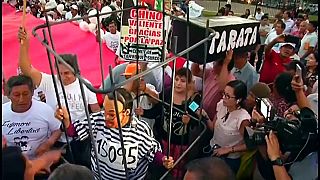 In contrast to previous protests, hundreds of people gathered on the streets of Lima to show their support for former Peruvian president Alberto Fujimori.
Some marchers expressed their gratitude to President Pedro Pablo Kuczynski for pardoning Fujimori on Christmas Eve; a decision that meant he served less than half of a 25-year sentence for human rights abuses.
The decision sparked large protests across the country and prompted senior officials to resign amid a political crisis.
Despite this, an IPSOS poll back in 2016 found that 65% of Peruvians did back a release on Humanitarian grounds. And given Fujimori's ill health, the pardon was issued for this reason. But Kuczynski promised not to pardon the former president when he ran, in the 2016 election - helping him sweep up support from the family's foes. This has led many believe it was part of a backroom deal struck to protect the current president from impeachment on corruption charges.