'Shot dead by Egyptian navy': Gaza fisherman buried
Comments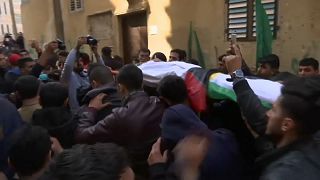 A funeral procession has carried Abdullah Zidan's body through Gaza a day after he was allegedly shot dead by Egyptian naval forces.
Palestinian authorities claim the 33-year-old was in their own waters, near the southern border town Rafah, when his boat came under fire. It is not clear whether he was attempting to cross into Egyptian waters.
Fishermen from Gaza are known to bring in catch from Egyptian territory as a way of sidestepping restrictions imposed by an Israeli naval blockade. Egyptian naval forces have previously opened fire on foreigners they accuse of crossing the maritime border.
Palestinian officials have called on Cairo to investigate. Egypt has yet to comment on the situation.