Watch: rare footage of wolves captured on camera in Romania
Comments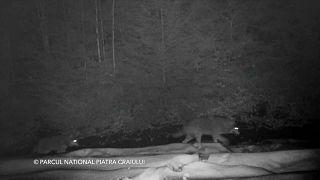 This is the rare moment a pack of wolves was captured on film in Romania.
They were filmed passing in front of a fauna monitoring camera at Piatra Craiului National Park in early January.
The park, around 140 kilometres north-west of the capital Bucharest, is home to wolves, lynx and brown bears, among other species.
Romania's forest management agency, Romsilva, who shared the video on its Facebook page, said the country is estimated to be home to around 5,800 wolves, one of the largest populations in Europe.
Forestry spokesman Robert Pache told The Associated Press: "We haven't always had the infrastructure, but we've always had large carnivores and now the world can see them."
Wolves almost became extinct in parts of Europe because of hunting in the 19th century, but have returned in recent years to France, Italy and Slovenia due to greater protection.