Last chance for German coalition talks to begin
Comments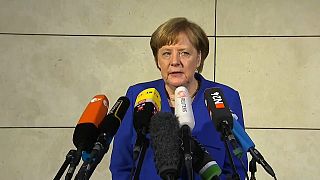 German Chancellor Angela Merkel has said that her conservative bloc and the Social Democrats still had difficult obstacles to clear before they could agree to enter formal coalition talks.
On the final day of exploratory talks, Merkel remained hopeful of an agreement.
'There are still big hurdles in the way that need to be removed.... so this will be a hard day, but I am also going in with a huge amount of energy today because we know that the people expect us to find solutions. I will work in this spirit today and all of the representatives of CDU will also work with us today.'
A weakened Merkel is pinning her hopes for a fourth term as chancellor on successful talks with a wary SPD for a re-run of the 'grand coalition' that ruled from 2013 to 2017.
SPD leader, Martin Schulz will be going into the talks knowing he holds a key and will be looking to monopolise this in his play for power.
'If we enter into such a government, then it's under the condition that this government makes Europe strong. There are huge obstacles that we need to take out of the way and this is the last day.'
More than three months after the election, some of those who are sceptical about a new Grand coalition want new elections to take Europe's largest economy forward.
SPD members will vote in Congress to decide whether to enter into the talks on the 21st of January.