France's baby food scare worsens
Comments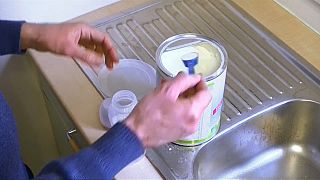 The French government is threatening to sanction some of the country's top supermarkets after they admitted recalled baby foods made by Lactalis had still found their way into shops.
The admissions deepen a salmonella health scare that began in early December when the government ordered a halt to sales and a global recall of products from a factory in northwest France.
Economy Minister Bruno Le Maire laid the blame squarely on Lactalis.
"The state, on the 9th of December, stepped in for a company which failed in its actions and which, I re-emphasize, bears the sole responsibility for the quality and safety of the products on sale," he said. "This matter is serious, it has led to unacceptable behavior which must be punished."
Supermarket chain, Carrefour, said it had sold 434 products at risk of contamination since the December recall while France's biggest retailer Systeme U said it had sold nearly one thousand products.
Salmonella infections can be life-threatening, particularly for young children.