Brooklyn man pleads not guilty to bomb attempt
Comments
By Rana Novini and Jon Schuppe with NBC News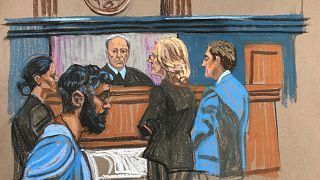 Copyright

Christine Cornell

-
A New York man pleaded not guilty Thursday to trying to bomb a subway station, an attack that injured no one seriously but himself.
Akayed Ullah, a Bangladeshi immigrant, said little during his first appearance in federal court in Manhattan. Wearing blue jail-issued clothing, he said he understood the terrorism charges against him, and when asked by a judge if he had a plea, he responded, "At this moment, not guilty."
Prosecutors went over what sort of evidence they intend to present, including photographs of the scene, Ullah's statements to authorities after his arrest, fingerprints and the results of searches of his phone records, financial and travel records, laptop, social media accounts and home.
Ullah, 27, is accused of carrying out the Dec. 11 attack in a busy passageway near Port Authority Bus Terminal in midtown Manhattan. He is charged with material support of a terrorist organization, use of a weapon of mass destruction and four other related counts.
Related:NYC blast suspect Akayed Ullah aimed to avenge Muslim deaths, sources say
The crude explosive device, strapped to his body, was fashioned from a pipe, a 9-volt battery and Christmas lights and was packed with metal screws. He allegedly built it according to instructions found on the internet.
Ullah suffered burns and other wounds; no one else was seriously injured.
Before the blast, Ullah posted messages to his Facebook page referring to ISIS and taunting President Donald Trump.
Ullah is living in the United States with a green card after arriving in 2011 with the help of two immigration programs. His uncle, who arrived in the country after winning a visa lottery, sponsored him under a policy sometimes called chain migration. Trump has cited the case as a reason to dismantle the programs.
Ullah began to self-radicalize three years ago, authorities said, but law enforcement said he wasn't on their radar before the subway attack.