Trump's attempts to deport children blocked by U.S. judge
Comments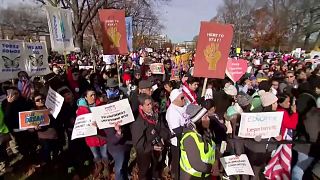 In the U.S a judge has blocked an attempt by the Trump administration to end a programme that prevented the deportation of children brought to the United States illegally by their parents.
The president's decision to end the DACA (Deferred Action for Childhood Arrivals) programme has drawn widespread protest and criticism since it was announced in September last year, and it has also been challenged in the courts.
On Tuesday Mr Trump held a meeting with U.S congressional leaders to discuss the broader issue of immigration, and, referring to DACA, he made it clear that he will not be giving up on his intention to make changes to the policy.
"We've been talking about DACA for a long time," Trump told reporters. "I've been hearing about it for years, long before I decided to go into this particular line of work, and maybe we can do something; we have a lot of good people in this room, a lot of people that have a great spirit for taking care of people we represent, we all represent."
A U.S district judge ruled in San Francisco on Tuesday that the the DACA programme must remain in place until litigation over the issue has been resolved.