Thousands stranded in European ski resorts
Comments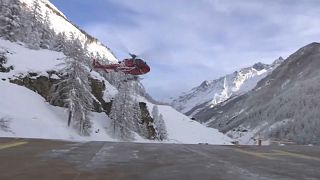 There is only one way to travel, and for those ready to pay flying is the only way out of Zermatt in Switzerland after the resort was completely cut off for two days  by heavy snow. With the rail line not expected to reopen until later on Wednesday, more than 13,000 tourists have been stranded.
"It was a bit unnerving in the morning. We woke up and there was no power in our hotel, no internet. We couldn't have breakfast and we didn't know what was going on. But eventually by 10 o'clock we sort of realised there had been a lot of snow overnight. We felt fairly safe. It was ok," said an Australian tourist.
A combination of heavy fresh snowfall and a warm fohn wind means much of the Alps have been on avalanche alert. Sestriere in the Italian Alps saw buildings buried and roads and rail lines have been blocked or washed away in mudslides.
"People who were inside at the moment were a little bit scared for sure, but it all ended quickly since it was quite small, nothing serious, Of course the building suffered some damage but nothing too serious," said Alpine rescue team member Simone Leone.
Many areas threatened by dangerous avalanches have been triggering them with explosives, like in the southern Valais in Bettmerhorn.
There will be more controlled avalanches ahead of forecasted better weather.