Robots and time travel at CES 2018
Comments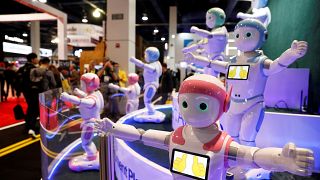 CES 2018 is underway in Las Vegas, showcasing the latest trends in consumer technology
Anyone who came for the robot companions, won't be disappointed. Robots are everywhere, doing chores, playing games and providing companionship. 
One, from the Industrial Technology Research Institute, plays scrabble. It uses 3-D vision recognition and hand-eye coordination technology to detect and move the letters. 
Those who would rather play with a human but don't have anyone nearby can try Infivention's Square Off chess board. Beneath its rosewood surface, a Bluetooth enabled robotic arm moves the absent opponent's pieces around the board in real time. 
Also trying to conquer the space-time continuum, virtual reality device, Timescope. Put on the headset and step into the past. Using historical data, Timescope destinations allow players to experience a world from years gone by.
And for anyone who needs a little self-improvement, there's Keen from Habitaware. The smart-bracelet uses gesture detection technology to gently nudge wearers into breaking bad habits, such as nail biting or hair twirling. The bracelet vibrates when it notices that your hands are in the wrong place and vibrates as a reminder.