Ecuador dubs Assange's situation 'unsustainable'
Comments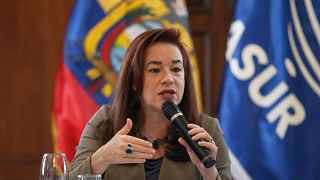 Ecuador's foreign minister has said the situation concerning Julian Assange is untenable and has called for international mediation to resolve the issue. The WikiLeaks founder has been confined to the Ecuadorian Embassy in London since 2012, fearing extradition to Sweden over sexual assault charges he denied. They were later dropped, but he remained in the embassy claiming he could be extradited to the US. 
Maria Fernanda Espinosa said:
"We will continue to protect Julian Assange while his physical and psychological integrity are at risk. What we do have is an enormous interest in reaching a definitive solution in this case. We believe Julian Assange's situation, from a human perspective, is unsustainable. A person cannot live in these conditions forever. And we are very respectfully looking with the UK to find mechanisms that lead to a solution."
Among the documents published by Wikileaks are hundreds of thousands of US Army war logs and state department diplomatic cables, leading US Attorney General Jeff Sessions to label Assange's arrest a "priority".
Police in the UK say the Australian citizen will be arrested on failing to surrender to the court in 2012 if he leaves the embassy. Westminster refuses to guarantee he will be allowed to stay in the UK.