Avalanche fears trap 13,000 tourists in famed Swiss ski resort
Comments
By Nick Bailey and Alice Tidey and Bill O'Reilly with NBC News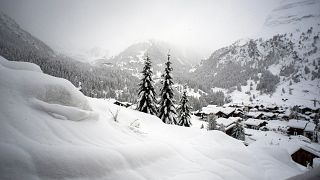 -
Copyright

Mateusz Bocian EPA
About 13,000 tourists were trapped in the popular Swiss ski resort Zermatt Matterhorn for a second straight day Tuesday as officials warned of "large and, in many cases, very large dry avalanches."
In a statement, the famed resort also warned: "There are possible power breakdowns all over Zermatt."
Police and operators in the area closed roads leading in and out of the region on Monday morning and canceled all train services Monday night. Hiking and skiing in the area, about 75 miles east of Geneva, was also banned.
The decision to cut off access to the resort was made after the Swiss Federal Institute for Forest, Snow and Landscape Research raised the avalanche risk level to 5 — the maximum.
"Numerous large and, in many cases, very large natural dry avalanches are to be expected as a result of fresh snow and strong winds," the institute warned on its website. "Without question, it is inadvisable to engage in ski touring, freeriding and snowshoe hiking outside marked and open pistes."
"There's no way in or out of town right now," said John Lauria of New York City, who was visiting Zermatt with his sister, Amanda.
"We were only skiing on Sunday. Monday and Tuesday were too much avalanche risk," Lauria told NBC News. "Today, they didn't allow anybody on the mountain whatsoever."
Still, there are worse places to be stranded, he said.
"There's enough cheese in this town to feed all of America for a full year," he said. "And let me tell you, there's no shortage of beer, Champagne and other fine wines. We've been good. Sauna, massages, shopping, let me tell you: Not a big deal."
Amanda Lauria said: "Everyone seems to have a positive attitude and is looking forward to the skiing conditions tomorrow."
New snowfall Monday evening coated layers of old snow, creating a perfect environment for avalanches, the institute said.
Resort operators said that the measures were preventive and sensible under the circumstances and that there was no immediate threat to guests and residents.
"There are about 13,000 tourists at the moment that are spending the holiday here," Janine Imesch, a spokeswoman for Zermatt, told NBC News. "The situation is under control, and there are no safety issues."
Agence France-Presse estimated that the resort has a resident population of 5,500 people.
"Level 5 is almost unheard of in Zermatt," the Matterhorn Diamonds private ski school, which is based at the resort, warned in a tweet. It urged its customers to take care.
Swiss police said they were launching "preventative triggering" of smaller avalanches with the aim of opening the resort's roads on Wednesday.
Weather forecasts point to a reduction in snowfall during Tuesday, with no snow forecast for Wednesday.