Bosnian Serbs mark controversial anniversary
Comments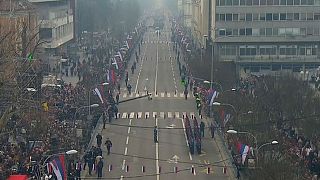 Bosnian Serbs have held a parade to mark a controversial anniversary.
The event took place in the city of Banja Luka to commemorate January 9, 1992 - the day they declared independence.
The declaration came after Bosnian Serbs boycotted a referendum in which Bosnian Muslims and Croats voted to secede from Serbian-led Yugoslavia.
The events triggered Bosnia's 1992-95 war.
Tuesday's parade was in defiance of the European Union and the United States, but with support from Russia.
It has been banned by the country's constitutional court for discriminating against other ethnic groups.
Bosnian Serbs mark January 9th as the anniversary of the creation of the Republika Srpska entity.
You can watch footage of the parade in the video player, below.