Sumo scandal threatens new season in Japan
Comments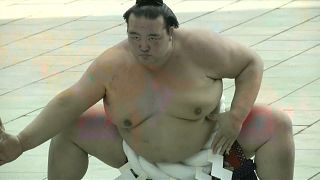 Sumo fans in Japan expressed concern over the scandal-hit national sport on Tuesday (January 9) as grand champions, Kisenosato, Hakuho and Kakuryu, performed the annual New Year ring-entering ceremony at the Tokyo Meiji Shrine, ahead of the year's tournaments.
Mongolian-born former sumo grand champion, Harumafuji, retired in November after injuring a fellow Mongolian junior wrestler Takanoiwa with a karaoke machine remote control on Oct. 25 while drinking at a restaurant-bar with other wrestlers -- a case that rocked the world of sumo just as the sport was regaining popularity.
Though hundreds gathered to watch the annual ritual, some said they were concerned the image of the sport might have been tainted.
The incident has highlighted sumo's struggle to reform harsh conditions that can breed violence in its closed, hierarchical world, although some wrestlers say there have been improvements in the decade since a trainee was beaten to death.
The year's first sumo tournament will kick off on Sunday (January 14) in Tokyo.