Macron in China: why is he there?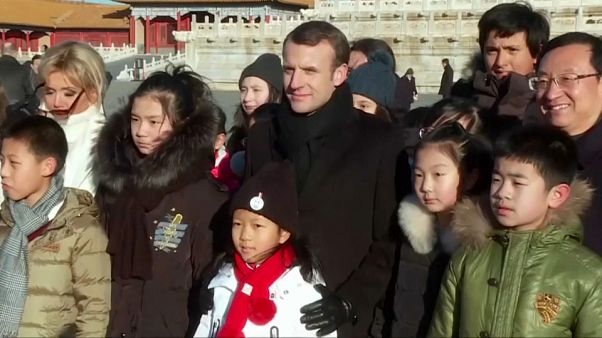 President Emmanuel Macron has offered to open up France to Chinese investment.
This is in exchange for greater access to Chinese markets for French companies.
Macron has warned that existing trade imbalances will lead to protectionism.
Macron, who met President Xi Jinping on Monday evening, said the two countries would fall into a lose-lose situation if continued restrictions on foreign firms in China prompt France and Europe to put a brake on Chinese inward investment.
"Let's open up both instead."
What did he say?
"We have an access to markets which is unbalanced, unsatisfying. If we don't deal with this responsibly, the first, natural reaction will be to close up on both sides."
Why is Macron in China?
He is on the second leg of a three-day state visit to the country.
A delegation of 50 business leaders are with him.
The aim is to reduce a 30-billion-euro trade deficit with Beijing.
Macron is hoping to seal deals, notably in the nuclear, aerospace and agrifood sectors.
Have any deals been signed so far?
Yes. French nuclear group Areva is close to signing a commercial deal to build a nuclear reprocessing plant.
"We've never been that close to signing a commercial deal," said an official.
French banking giant BNP Paribas is also expected to set up a joint venture with a Chinese partner in the consumer credit sector.
French engineering firm Fives has signed a deal with Chinese online retail giant JD.com. They will set up a logistics centre in France to source French food and luxury products for sale online in China.
JD.com has agreed to sell two billion euros-worth of French products like Remy Martin cognac or Evian water on its website over the next two years.
What they are saying
"We are confident we will achieve more than symbolic stuff," - anonymous French official.