El Salvador nationals living in the US say ending TPS will tear families apart
Comments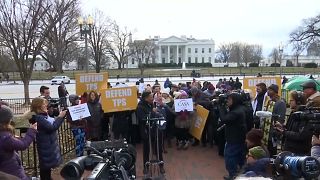 Demonstrators gathered in front of the White House on Monday to protest against the removal of Temporary Protected Status for El Salvador nationals living in the U.S.
TPS was granted after a series of earthquakes rocked the the country in 2001. Over the last 17 years around 200,000 people have made a life in the U.S. Many have married and had children who were born in America. Now the Trump administration says it cancel permits allowing those people to live and work in the United States. They have until September 2019 to find a legal way to stay - or face deportation.
Lindolfo Carballo has TPS. He arrived in 1990 and is now a legal migrant campaigning for the rights of others.
"I think this is a tremendous injustice," said Carballo. "Not just against Salvadorans, but also Honduran men and women, people with families, with houses, with children born here. So what is happening in this country is actually a tyranny and it's time to stop it." The US says its given an 18 month deadline to allow for what it calls an orderly transition; the El Salvador government is urging people not to panic.
"The first thing I want to tell people is that they need to remain calm, we have another 18 months, from March this year to September 2019," El Salvador's Foreign Minister told a press conference.