Orthodox Christians celebrate Christmas
Comments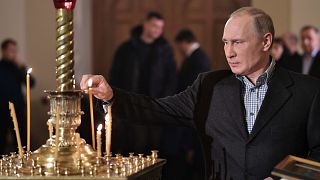 It is January 7 - meaning that it is Christmas Day for Orthodox Christians across the world.
Patriarch Kirill, the head of the Russian Orthodox Church, led the main midnight mass in Moscow to usher in the big day.
Prime Minister Dmitry Medvedev was among the worshippers at the Cathedral of Christ the Saviour.
President Vladimir Putin attended a service in his hometown of St Petersburg.
Orthodox Christmas - according to the Julian calendar - was also ushered in at Bethlehem's Church of the Nativity where the Greek Orthodox Patriarch of Jerusalem was joined by Palestinian President Mahmoud Abbas.
As he arrived though, Patriarch Theophilos III's convoy was attacked.
The Greek Orthodox church is one of the biggest private landowners in the Holy Land and protesters were demonstrating their anger against it selling land to Jewish groups.
They threw stones and water bottles and pounded the Patriarch's car with their fists, chanting "traitor, traitor," before Palestinian security forces pushed them away.
Three cars in the convoy, but not the Patriarch's vehicle, had their windows smashed.
Demonstrator Elyeef Sayegh said: "What happened today is a message to the Palestinian Authority and to Jordan that we will not allow this traitor to stay in the Church."
There was tight security in Egypt whose large Christian minority is regularly targeted by Islamist militants.
President Abdel Fattah al Sisi attended midnight mass with Pope Tawadros II, the head of the Coptic Church, at a newly-built cathedral east of Cairo.
Sisi was cheered by worshippers as he entered the building.
The celebrations were held days after attacks on a Coptic church and another Christian-owned shop that left more than 10 people dead.
with Reuters