Spain celebrates Three Kings' Day
Comments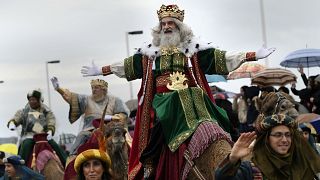 Millions of Christians are celebrating Epiphany this Saturday.
On Friday night (Jan. 5), crowds gathered on the streets of Madrid amid heavy rain and tight security to watch the traditional Three Kings parade.
The holiday celebrates the biblical tale in which the Three Kings, or Three Wise Men - Melchior, Caspar and Balthasar - visit baby Jesus after his birth.
Today, children are the ones to receive gifts.
"I love the Three Kings because they bring a lot of presents and they make people have a good time. I've come here to see them and to see their marvellous floats, and also for the sweets," said one boy named Hugo.
Politics overshadowed the celebrations in Catalonia. Crowds attending the Three Kings parade in the town of Manresa wore yellow to show support for jailed pro-independence leaders.
Meanwhile in Mexico City, thousands gathered to grab a slice of one of the country's tastiest traditions: a mammoth King Cake, courtesy of the local government.
According to reports, the giant pastry was 1,440 metres long, weighed over 9,000 kg, and allowed for some 250,000 slices to be cut up for locals.