Australia raises alarm as bushfires rage out of control
Comments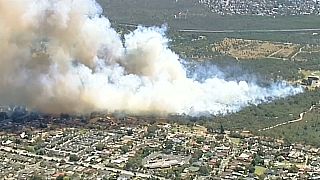 Authorities in Australia are battling massive bushfires that threaten to rage out of control.
Several structures are burning on the outskirts of the country's second largest city, Melbourne, state capital of Victoria.
More than 50 fires have been reported across the state and around 400 households are without power.
Emergency warnings have also been sounded in the rural south-east state of South Australia where another fire has forced residents to seek shelter in buildings because roads are too dangerous to use.
The region's experiencing a heatwave with temperatures in excess of 40 degrees celsius and the flames are being fanned by high winds.