Arab ministers counter-attack on Jerusalem status
Comments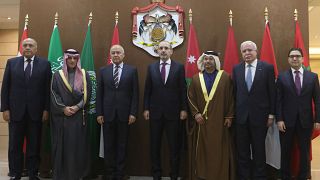 -
Copyright

Petra News Agency/Handout via REUTERS
Six Arab countries have pledged to seek international recognition of a Palestinian state with East Jerusalem as its capital.
Meeting in Amman on Saturday (Jan. 6), the foreign ministers of Jordan, Saudi Arabia, the UAE, Egypt, Morocco and the Palestinian authority said they also aim to ensure no other country decides to recognise Jerusalem as Israel's capital, Spanish news agency EFE reported.
It comes exactly one month after US President Trump's controversial move sparked protests across the Middle East and infuriated Arab and Western leaders alike.
The Arab League is now set to hold a full meeting of foreign ministers at the end of this month "to evaluate the outcome" of the group's contacts with the world community, mainly with Russia, China and the European Union.
Trump reversed decades of US policy on Dec. 6 by announcing the United States recognised Jerusalem as the capital of Israel and would move its embassy there.
The US government later threatened to cut aids to countries that opposed the move. Still, 128 countries voted in favour of a United Nations General Assembly resolution calling for the United States to drop its declaration.
Trump said last Tuesday (Jan. 2) he would withhold aid payments to the Palestinians, accusing them of being "no longer willing to talk peace" with Israel.
News site Axios reported on Friday (Jan. 5) that the United States had frozen $125 million in funding for a UN agency that provides aid to Palestinian refugees, but a US State Department official said no decision had been made on the payment, and deliberations were ongoing.
The status of Jerusalem - home to major Muslim, Jewish and Christian holy sites - has been one of the biggest obstacles to any peace deal between Israel and the Palestinians for generations.
Israel considers all of Jerusalem as its indivisible capital, while Palestinians want the eastern part of the city - which Israel captured in a 1967 war - as a future capital for their own independent state.