Can New York shut down its most notorious jail?
Comments
By Jon Schuppe with NBC News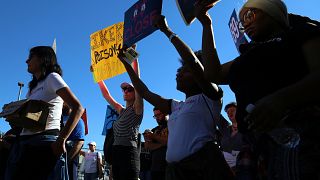 -
Copyright

Bria Webb Reuters file
After New York Mayor Bill de Blasio promised last March to close one of America's most notorious jails, watchdogs grew concerned that the plan wasn't moving quickly enough, with few tangible signs that the city was committed to abandoning an 82-year-old monument to mass incarceration, cruelty and corruption.
That changed a bit this week, however, when the de Blasio administration announced that it would shutter one of 10 lockup facilities on Rikers Island this summer, a move made possible by a dramatic drop in the city's jail population ─ which in turn has been driven by a historic reduction in crime.
Now, even the most skeptical criminal-justice-reform activists say there's reason to believe that Rikers — where some defendants, including minors, have languished for years behind bars while awaiting trial, and guards have routinely beaten prisoners — may actually one day close forever.
"One of the stories that hasn't gotten out enough is how remarkable it is that a big city plagued with a history of crime and the need for law and order, and now being so safe and crime-free, can do something pretty radical in American criminal justice, which is to close its biggest jail and think about a 21st century system that doesn't reflect anything else we have in America," said Insha Rahman, a project director at the Vera Institute for Justice. "Other places across the country are looking to New York City to say, 'If they can do that, can we?'"
Related: How algorithms are used to eliminate cash bail
Closing Rikers, a 400-acre island in the East River that sits in the shadow of New York's LaGuardia Airport, would be a massive undertaking, requiring an array of bureaucratic maneuverings that will allow the city to cut its jail population by another 40 percent and find new places to detain the remaining prisoners. Rikers is the city's central jail complex, with other satellite lockups.
The island has been infamous for decades. It is already under the watch of a federal monitor overseeing inmate treatment, and drew a new wave of criticism after after the 2015 suicide of Kalief Browder, a teenager who'd spent three years on the island waiting for trial on charges of stealing a backpack.
De Blasio, who first campaigned for mayor on promises to curb mass incarceration and stop-and-frisk by police, had withheld making a policy of closing Rikers because it was so expensive and difficult. But he switched his position as an independent commission began studying how to close the jail. Just before the panel released its report, de Blasio vowed to shutter Rikers, saying it would take 10 years and $10 billion.
De Blasio's plan depends on keeping crime down, finding alternatives to jail for people who cannot make bail, making courts work faster, expanding services for people at risk of committing new crimes, changing the way the system handles juveniles and the mentally ill, retrofitting old off-island jails and building new ones in neighborhoods that agree to have them.
Related: Bail 'disrupters' have a plan to free thousands from U.S. jails
The administration recently asked for bids from firms to identify new jail sites, a process that could take months. Critics complained de Blasio was slow-rolling his plan.
Former New York State Chief Judge Jonathan Lippman, who headed the Rikers commission, told the City Council in December that Rikers was a "stain on the soul of our city" that could be lifted in less than 10 years.
"But we can't do it if we do it in a kind of a bureaucratic way where we say, 'Listen, we're going to be study this, that, the other thing.'" Lippman said.
Then, on Tuesday, de Blasio said that by summer the city would close The George Motchan Detention Center, a decrepit facility that houses about 600 men, calling it "an important step in our plan to close Rikers Island." The announcement came a few days after the mayor noted that the city's jail population had dropped to 8,705, the lowest since 1982 and down from a peak of 21,674 in 1991 ─ but far from the 5,000 he says would allow Rikers to be closed.
Even Lippman was somewhat impressed.
"The fact that they're taking these steps, that's hopeful, but it's not enough yet to say, 'Hey, we're on the right track and this is going to happen,'" Lippman told NBC News.
Tina Luongo, who heads the Legal Aid Society's criminal defense unit, said this week's announcement "proved that this can be done much sooner."
After the mayor's Tuesday announcement, Vidal Guzman walked into a juice bar in his Harlem neighborhood and shared the news with some of the regulars. Guzman, 26, has been to Rikers twice, including spending over a year at the George Motchan Detention Center before he was convicted of robbery and sent to prison upstate.
After his 2014 release, Guzman became a community organizer for Just Leadership USA, a justice-reform group that has been pushing for de Blasio to close Rikers. He said he and many other men remained emotionally scarred by the violence and substandard treatment they endured at the detention center.
In the juice bar, Guzman recalled, he saw men who'd been through George Motchan. When he told them it was closing, they smiled.
"It gives people hope that change is really happening," Guzman said.