Germany's FM seeks UN peacekeeping mission for Ukraine
Comments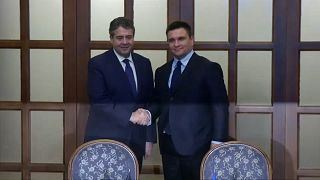 Berlin is pushing for an armed UN peacekeeping mission to enforce a ceasefire in eastern Ukraine.
It was one of several issues raised between Germany's Foreign Minister Sigmar Gabriel and his Ukraine counterpart Pavlo Klimkin during talks in Kyiv.
Gabriel was highly critical of a US decision to supply Ukraine with anti-tank missiles.
"In Germany we are sceptical if the delivery of weapons is helpful in any way. But that is the view from a country that exists in some distance, in relative safety."
In response Ukraine's foreign minister made assurances that the weapons would be used for defensive not offensive purposes.
He added their delivery "would not raise the temperature of the continuing hostilities".
Ukrainian government forces have been fighting Russian-backed separatists in eastern Ukraine since 2014 in a conflict which has killed more than 10,000 people. Moscow has said the US decision will only fuel hostilities.