Ryanair passenger jumps out of emergency exit at airport
Comments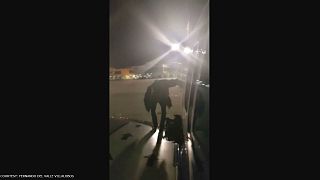 The incident, which occurred just after 11 pm on Monday, happened aboard a Ryanair flight from London Stansted airport to Malaga, which suffered a number of delays.
After experiencing an hour delay at Stansted, the plane was reportedly held for another 30 minutes on the tarmac on arrival in Spain.
The man is said to be a 57-year-old Polish national.
In video captured by another bewildered passenger, he can be seen pulling the emergency exit open, assessing the jump out of the plane before he leaps onto the wing and sits down.
Fernando Del Valle Villalobos, who filmed the event, said: "Yesterday on January 1 after leaving London an hour late and arriving in Malaga only to be left waiting another 30 minutes inside the plane, with no explanation as to why from Ryanair, this man decided he wasn't going to wait any longer.
"He activated the emergency door and left, saying, 'I'm going via the wing.' It was surreal."
Another passenger who was also on the flight said: "I don't know why he did it. He must have just lost it and it was the first thing that came into his head."
Ground staff coaxed the man back onto the plane where he stayed until Civil Guard officers arrived.
He was subsequently arrested by local police, according to APTN news agency.