Berlin's newest polar bear dies after 26 days
Comments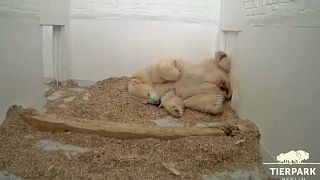 -
A polar bear cub at Germany's Tierpark zoo has died after 26 days.
The female cub, who had not yet been named, was found dead on January 2, the Berlin zoo said in a statement. She was born to 8-year-old mother Tonja and 6-year-old father Wolodja on December 7, 2017.
"We were all aware of the high mortality rate for polar bear cubs in the first few weeks, but this is still tragic news and we are deeply saddened," said Tierpark polar bear keeper Dr Florian Sicks.
Zookeepers last saw the cub on January 1 when she appeared "safe and sound", the statement said.
"Tonja has been an exemplary mother and took great care of her tiny female cub", the zoo added.
The Leibniz Institute for Zoo and Wildlife Research is conducting an autopsy on the cub to determine the cause of death.
Tonja's previous cub, Fritz, died in March 2017 at the age of 4-months from an inflammation of the liver.