Libya sends migrants home to Gambia
Comments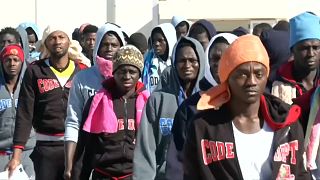 More than one hundred illegal migrants from Gambia have been sent home from Libya by the UN's migration agency. It's part of the International Organisation for Migrants (IOM) voluntary return programme.
The migrants left Misrata airport on a one-way-flight back to Gambia in a bid to ease severe overcrowding in Libya's detention centres.
The number of people stuck in the centres has risen dramatically this year after armed groups largely shut down the boat route to Italy.
The IOM has stepped up its Libya programme evacuating up to 15,000 in the final month of 2017.
The deportations come in the wake of a CNN report on migrants being sold for slave labour that sparked an international outcry.