2017 safest year on record for commercial air travel
Comments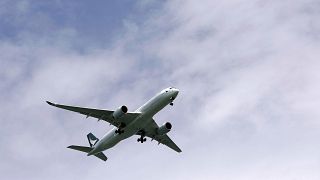 In 2017, only 44 people died in accidents concerning commercial air transport, making it the safest year on record.
The number of accidents in 2017, which reached 10, was also the smallest-ever recorded figure, along with 2015, which saw the same amount of accidents but with more resulting fatalities.
Safest years for air travel
After 2017, both 2013 and 2016 saw relatively low numbers of fatalities but the number of people who died in plane accidents was significantly higher at 256 and 303 respectively.
Along with accidents in 2015 (10), 2016 (16), 2014 and 2012 (18) were the years during which the least accidents occurred.
Worst years for air travel
1972 saw the most people killed in aviation crashes, with 2,469 victims losing their lives.
Among the 64 accidents recorded, 10 of them killed over 100 victims. Another 174 people were killed in October that year when Aeroflot Flight 217 crashed near Moscow-Sheremetyevo airport after failing to land several times.
156 passengers died in an accident shortly after take-off in East Germany in August and 155 were killed in similar circumstances in Tenerife in December that year.
In terms of the number of crashes, 1948 was the worst year with 80 accidents, followed by 1947 when 72 crashes occurred and 1949 with 70.
In the last decade, 2014 was the worst year with the death of 961 people in 18 accidents. It was the year that Malaysia Airlines flight MH370 vanished and MH17 was shot down over Ukraine with 239 missing and 298 dead. An Air Algeria flight also killed 116 people and an Air Asia plane disappeared with 162 people on board.
Deadliest accident of 2017
The accident that saw the most passengers killed in 2017 came at the end of the year on December 31—12 people were killed as a small private plane crashed in Costa Rica 10 minutes after takeoff.
An accident involving a Turkish Boeing 747 freighter that crashed into houses on the outskirts of Bishkek, Kyrgyzstan, caused the most fatalities when four people were killed in the plane and 35 on the ground.
Deadliest accidents on record
The worst-ever passenger plane crash is known as the "Tenerife disaster" and occurred in 1977.
Two Boeing 747s, one from Pan Am and one from KLM, collided on the runway at Los Rodeos airport (Tenerife North Airport) killing 583 people.
The deadliest aviation-related disaster of any kind, considering fatalities on both the aircraft and the ground, was the September 11 terrorist attacks in 2001 when nearly 3,000 people died.
Has it become more dangerous to travel by plane?
Efforts to improve aviation safety since the first passenger planes took to the skies are paying off and the number of fatal accidents has declined year on year when the number of passengers has steadily increased.
Air transport remains one of the safest means of transport in the world. In 1973, there was one victim per 177,000 passengers, whereas in 2017 there was one casualty for nearly 100 million passengers.