'It just nosedived' - eyewitnesses describe deadly Sydney sea plane crash
Comments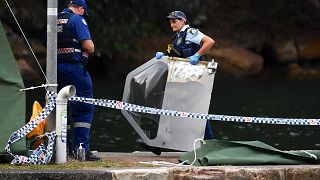 As investigators examine possible reasons for a deadly sea plane crash near Sydney, eyewitnesses have described the moment the aircraft hit the water.
"I just thought it was coming in low doing a flyby, but when we looked out on the corner it just nosedived", said Todd Sellars.
On board were five Britons – among them an eleven-year-old child – and the plane's Australian pilot. All six perished.
Will McGovern said he and his friends tried to rescue those on board.
"I heard the noise before I saw anything. It was this low real loud crawling sound and then the impact."
"The water was full of fuel, massive slick across the top, and the fumes actually burning your eyes", he added.
Four friends on a nearby houseboat said they were at the scene within seconds to try to help those inside the sinking plane. Kurt Bratby dived into the water.
"I could see windows, the windows, we just couldn't dive down deep enough really to be able to see more, everywhere oil and that, it was making pretty hard to see clearly", he explained.
All six bodies were later recovered from the water.