Virginia man arrested in ISIS investigation, FBI says
Comments
By Phil Helsel with NBC News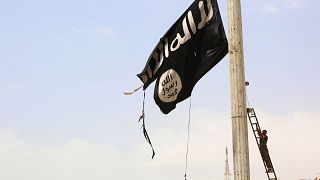 -
Copyright

Delil Souleiman AFP - Getty Images file
A Virginia man was arrested Friday on suspicion of trying to destroy evidence as authorities investigated him for allegedly supporting the Islamic State terror group and expressing an interest in carrying out an attack in the United States.
Court documents say Sean Andrew Duncan, a U.S. citizen, faces a charge of altering or destroying a thumb drive and memory chip to impede a federal investigation.
Investigators said in an affidavit that one of Duncan's relatives reported that he converted to Islam and may have been radicalized, and that a person in custody in another country for trying to join Islamic State said Duncan was one of her U.S.-based "contacts" who expressed an interest in joining the group and carrying out an attack and provided information about homemade bombs.
Related: ISIS will remain a threat in 2018, experts warn
Phone records turned over to the FBI by police from an apparently unrelated investigation allegedly showed searches for Islamic State attacks, the group's leader Abu Bakr Al-Baghdadi and weapons and tactics.
Duncan is not charged with any terrorism offenses, according to court documents. The FBI said in the affidavit that the search warrant was part of an investigation into attempts to provide material support for a terror organization. A phone number for his home could not be immediately located, and it is unclear if he has an attorney.
He was arrested Friday after agents executed a search warrant at his home in Sterling, Virginia, and after Duncan allegedly ran out of the back of the home and threw a plastic bag with broken parts of a broken parts of a thumb drive immersed in some liquid, according to court documents.
Related: Fall of ISIS stronghold will change war on extremists, not end it
The court documents also say that Duncan and his wife tried to travel to Turkey in 2016 but were denied entry to that country and returned to the United States.
Duncan was interviewed by the FBI after being turned away from Turkey and two days later deleted his Facebook account and changed his phone number, according to court documents. The Islamic State supporter in custody who named Duncan as being a U.S. contact was interviewed in 2017. The FBI also said an undercover employee posed as an Islamic State recruit and Duncan gave her advice on vetting questions.
Last week a California man was arrestedand charged with plotting to aid the Islamic State by traveling to Syria or staging an attack on Christmas Day in San Francisco, federal authorities said.