Pope leads First Vespers and Te Deum prayer
Comments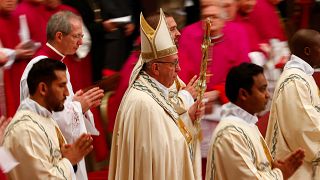 Copyright

REUTERS/Tony Gentile
Pope Francis in his year-end message said that 2017 had been marred by war, lies and injustice, and he urged people to take responsibility for their actions.
At his last public event of the year, an evening vespers service in St. Peter's Basilica, the pontiff said that humanity had "wasted and wounded" the year "in many ways with works of death, with lies and injustices."
While war was the most obvious sign of "unrepentant and absurd pride", many other transgressions had caused "human, social and environmental degradation".
"We must take responsibility for everything before God, our brothers and our creation," he said.
At the end of the service, Francis walked across St. Peter's Square, stopping to shake hands and pose for pictures, as he paid a brief visit to the life-size nativity set up outside.
On January 1, the leader of the world's 1.2 billion Catholics will say a Mass to mark the Church's World Day of Peace.