2 Romanians arrested for hacking 100+ surveillance cameras in D.C.
Comments
By Julia Ainsley with NBC News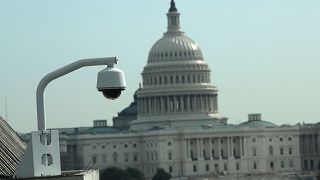 Copyright

Alex Wong Getty Images file

-
The Justice Department has charged two Romanians for allegedly hacking into over 100 cameras used by Washington D.C. police for surveillance earlier this year as part of a ransomware scheme.
The suspects Mihai Isvanca and Eveline Cismaru were arrested in Bucharest on Dec. 15 as they attempted to leave the country, the DOJ and European law enforcement officials said.
The Secret Service became aware that computers connected to surveillance cameras had been compromised on Jan. 12, only eight days before the inauguration of President Donald Trump, according to a complaint unsealed in federal court on Thursday.
The suspects "participated in an intrusion into and taking control of approximately 123 internet-connected computers used by the Metropolitan Police Department of the District of Columbia to operate surveillance cameras in public, outdoor areas in the District of Columbia," the complaint said.
Isvanca and Cismaru were also accused of using the computers they hacked to spread ransomware through at least 179,000 phishing emails. They could face up to 20 years behind bars if convicted, according to the Justice Department.
Lawyers for the pair could not be reached.
Romanian authorities have arrested three other individuals over the last week for allegedly infecting computer systems with malware, officials said.