New year, new ride? 15 cars to rev up your 2018
Comments
By Paul A. Eisenstein with NBC News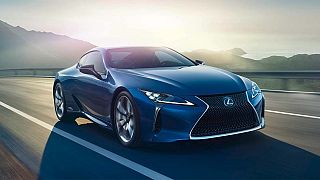 From the fastest-ever Ford Mustang to the family-friendly Volkswagen Atlas, 2018 brings a smorgasbord of new cars. Here's a look at 15 of the best all-new or completely updated 2018 models coming to a local showroom.
Alfa Romeo Stelvio
After a quarter-century out of the U.S. market, the Italian automaker is back with several new models. None matches the splash of the 2018 Stelvio, Alfa's first SUV, drawing raves for its sport car-like handling and peppy 280 horsepower engine. Serious performance fans might wait for the arrival of the Stelvio Quadrifoglio - a 500-hp beast bearing the four-leaf clover logo saved for Alfa's most extreme offerings.
Audi Q5
Audi was one of the first luxury brands to offer an SUV, and the Q5 gets a complete remake for the 2018 model-year. It gets a more stylish design, plenty of new features and better performance with Quattro all-wheel-drive that can handle even the roughest weather, as well as some modest off-road driving. The remake also adds some of the latest safety technologies, like auto-braking and blind-spot monitoring.
Chevrolet Traverse
Chevy has remade several of its SUVs for the 2018 model-year, including both the compact Equinox and the big Traverse. This three-row, seven-passenger model grows even roomier inside and adds more of the infotainment and safety features that make it a popular alternative for family buyers who don't want a minivan. The all-new Traverse High Country edition, meanwhile, adds more luxury features.
Ford Expedition
You'd probably have to buy a bus to find a more roomy SUV. The Expedition has plenty of room for a large family and everything they might want to carry - with plenty of power to tow a trailer, as well. The 2018 Ford Expedition is more stylish, more powerful, and loaded with more high-tech gear, including the latest Sync 3 infotainment system and onboard WiFi.
Ford Mustang
The classic "pony car" had a major makeover just a few years ago marking its 50th anniversary, but Ford wasn't content, especially with stiff competition from the likes of the Chevy Camaro. So, it's focused on upping the performance quotient, beefing up the 2018 Mustang GT engine and Magneride suspension to make it the fastest, most powerful and best-handling Mustang GT ever.
Honda Accord
The Japanese model has long been one of the dominant players in the midsize segment, and despite the boom in SUV sales, Honda is determined to show sedans aren't going away. The 2018 Honda Accord is all-new from the ground up, with a new look and a roomier, more sophisticated platform that offers a "class-above" experience. There are plenty of luxury touches, with even the base model getting the latest LED headlamps.
Honda Odyssey
Honda is also set to prove there's life left in the minivan market. And the new Odyssey has a slew of awards to back that up. It gets a flexible seating system that makes it easy to get in and out or load cargo. There's an array of new technologies, including a camera for parents to watch over kids - and an intercom to tell them to behave. Lots of infotainment gear, however, should keep the kids happy and maybe even quiet.
Kia Stinger
Kia's latest models have been turning heads with increasingly stylish designs and award-winning quality. Now, the South Korean carmaker is out to show it can take on even the best Europe can offer with its first true sport sedan, the Stinger. Low-slung and aggressive, its 365-horsepower V-6 makes it a serious performance machine that is earning comparisons to GT-class models from the likes of BMW and Mercedes-Benz.
Lexus LC500 and LC500h
Boring? Not anymore. Lexus has traditionally favored more conservative designs, but the striking LC sports coupe is one of the most aggressively styled offerings in the luxury market, and it matches its looks with a high-revving, 471 hp V-8 in the LC500. Lexus was the first luxury brand to offer a hybrid and for those who want both high performance and good mileage, there's also the LC500h hybrid option.
Lincoln Navigator
Ford's upscale brand invented the luxury SUV segment and, after ignoring its big brute for a number of years, it has finally revealed a completely new version of the three-row Navigator for 2018. It's visually more modern, inside and out, and offers plenty of upscale features, from 30-way power front seats to an optional 20-speaker Revel audio system. And its new EcoBoost V-6 can carry plenty of cargo or tow a large trailer.
Range Rover Velar
Britain's Land Rover has been rolling out a procession of new products, including the luxurious 2018 Velar. It features the best of traditional and modern, starting with an array of upscale features and great on-road handling. But like any classic Land Rover model, it also boasts the ability to traverse rocky trails and ford fast-moving streams. Buyers can choose from three engines, including a high-mileage diesel and a supercharged, 380 hp V-6.
Subaru Crosstrek
The Japanese maker kicked off a revolution with one of the industry's first "crossovers," the original Outback model. And it is expecting its line-up with new and updated utility vehicles for 2018, including the latest version of the Crosstrek. It's more attractive and more feature laden, including the latest version of Subaru's EyeSight suite of safety technologies, as well as all-wheel drive for snowy roads and even some off-road trails.
Toyota Camry
Japan's largest automaker has a great reputation for quality and reliability, but its products often have the sex appeal of an appliance. The 2018 Camry was designed to challenge that perception with a dramatic now look and a dynamic and sporty ride. The new sedan also grows longer, lower, wider, and roomier. There are plenty of new features, including auto-braking and an advanced infotainment system.
Volkswagen Atlas
Slow to take advantage of the SUV boom, VW is racing to make up for lost time with both a complete makeover of the entry-level Tiguan, as well as the debut of the big, seven-passenger Atlas. It's perfectly positioned for American families on the go and offers plenty of room - with easy access to the third row, as well as the latest infotainment and safety gear. There are two engine options and a choice of front or all-wheel-drive.
Volvo XC60
The Swedish maker is another brand out to prove everything you thought you knew about it is wrong. The bigger XC90 was named North American Utility Vehicle of the Year for 2017, and the 2018 offers many of the same features in a smaller, more fuel-efficient package. The styling is anything but the bland box Volvo was known for, but the XC60 retains the brand's focus on safety with new features like Oncoming Lane Mitigation, meant to head off head-on collisions.