Judge grounds Manafort's business partner for New Year's
Comments
By Tom Winter and Tracy Connor with NBC News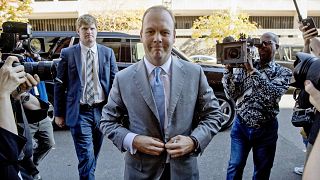 Copyright

Andrew Harnik AP

-
A federal judge seems to be losing her patience with repeated requests by Paul Manafort's business partner and co-defendant to relax his home confinement for the holiday season.
Rick Gates, who was charged with conspiracy by Special Counsel Robert Mueller, filed a motion requesting permission to leave his home for New Year's activities with his family.
Judge Amy Berman Jackson denied it on Friday, pointing out that even though she had set a firm deadline for changes, Gates had previously made a late request to attend a Christmas event and was allowed to go.
"After all of that, on December 28, 2017, defendant Gates filed yet another motion, with a new plan for New Year's celebrations," Jackson wrote.
"Given the untimely filing of the current motion, it will be denied."
The judge had previously chastised Gates for his appearance in a fundraising video while a court-issued gag order is in effect.
She previously warned Manafort — Donald Trump's former campaign chief — that work he did on an op-ed in a Ukrainian newspaper could be viewed as an attempt to circumvent the gag order.
Gates and Manafort were put onhouse arrest after being indicted in a money-laundering case that spun off from Mueller's probe of Russian meddling in the U.S. election. They have pleaded not guilty.
Both have been trying to work out a deal with prosecutors to be released on bail. Manafort recently agreed to put up some of his properties as collateral for a $10 million bail package that would allow him to move from Virginia to his Florida home as long he abides by a curfew and wears an ankle bracelet.