Tea and karaoke become daily obsession for China's baby boomers
Comments
By Shanshan Dong and Dawn Liu with NBC News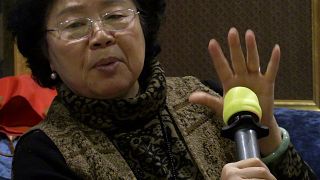 Copyright

Dawn Liu NBC News

-
BEIJING — Just outside Ritan Park, where many older people gather for daily meditative tai chi exercises, a different type of workout is taking place.
Lines of baby boomers and elderly customers often stretch outside the Music Box karaoke bar in the Chinese capital for up to half an hour before opening time. They spend their days stretching their vocal chords surrounded by velvet cushions and glitzy disco lights.
Karaoke, or KTV as it is known here, has traditionally been seen as an alcohol-fueled nighttime activity for young Chinese, who belt out the latest hits.
But when the sun comes up, these venues are now seeing a more gray-haired crowd, with baby boomers taking to the microphones and performing folk songs from their heyday.
According to Henan Business Daily, 80 percent of privately rented karaoke rooms in the central-eastern city of Zhengzhou are booked by people 50 and older during the day. The Wuhan Morning News reported that more than half of such places in the southern city of Wuhan are occupied by older people before nightfall.
Some karaoke bars are cashing in on the trend by offering special daytime rates and discounts of up to 50 percent for those 50 and above.
Li Yanjun, the supervisor at Music Box, said he had witnessed an increase in older customers since he started working there in 2014. An average of 150 baby boomers and senior citizens show up to sing daily, with some staying seven hours or longer.
"It brings happiness to the old people," Li said. "They have worked for half their life, and in the latter half they need a little recreation."
Zhang Huimin, a 72-year-old Beijing retiree, told NBC News she made her karaoke debut in February but enjoys it so much that she now goes every week.
Since her husband passed away, she found herself with little to do, so took up singing. She often finds herself staying at karaoke for five hours at a time.
One of her favorite songs? A Chinese pop song, "Who Are You Dating Tonight?"
"My lung capacity is bigger now," Zhang said. "I couldn't sing a very long beat before, but I can now."
She added, "I feel more occupied than when I was working."
Zhao Si, 73, attends karaoke with his wife but says the hobby has introduced him to a whole new group of friends.
"Everyone gets along," he said. "We are like brothers and sisters, being really close with each other. It's rather nice even when we just chat and not sing."
Zhao said he liked to sing anthems from the Chinese revolution, songs from his youth and even some Russian tunes.
"In here we are all the same, we are all singers," he said, even while admitting that some group members "don't sing very well."
Zhao said: "Singing can make me happy and bring relaxation to the body and mind. I feel very happy after singing."
Zhang Lize, 70, said her family was often busy, so she started going to karaoke to fill the hours.
Her regular gang of about 10 people even bring their own snacks of fruit and nuts. Instead of alcohol, they drink tea.
"KTV gives us a platform. We can sing here no matter if it's summer or winter," she said. "We are happy in body and mind. We don't only sing together, but also chat, communicate, bond and build our friendship."
And what do younger people think about their parents and grandparents taking over their singing establishments?
"I think it's a good activity," said Chen Yixi, 21. "It means they can get outside instead of staying inside and playing mahjong all day."