Ringing in 2018: New Year's traditions you might not have heard ofi
Comments
By Charles Lam with NBC News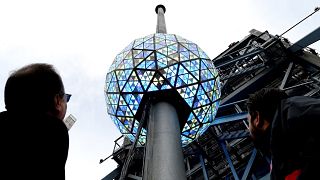 Copyright

JUSTIN LANE EPA

-
[Editor's Note: This article was originally published for New Year's Eve 2016]
While thousands will pack Manhattan's Times Square to take part in one of the United States' most recognized New Year's traditions, for most countries in Asia — and a large part of the Asian-American community — major New Year's festivities won't begin until the end of January brings the Lunar New Year.
Of course, not all Asian countries ring in the new year the same way or at the same time. There are dozens of unique traditions among the region which will, this year, ring in the Year of the Rooster.
So mark your calendars and read up on the year ahead of celebrations!
Follow NBC Asian America on Facebook, Twitter, and Tumblr.
#Zodiac Differences
While nearly all of the countries in Asia with zodiacs use the traditional Chinese Zodiac, with small changes to account for differences in local fauna, Vietnam makes one major substitution: the Vietnamese Zodiac omits the rabbit altogether, replacing it with the cat.
#Water Festivals in Southeast Asia
In the countries of Laos, Myanmar, and Thailand, April New Year festivities are held during one of the hottest parts of the year — perfect for each country's water festivals. Called "Songkran" in Laos and Thailand and "Thingyan" in Myanmar, revelers at the festivals take part in large-scale water fights, using bowls, buckets, water guns, and hoses to soak other revelers and cleanse themselves of their sins.
In Myanmar specifically, businesses and wealthy individuals will set up "pandals," water-throwing pavilions that can also serve as dance floors and musical performance stages.
#Japanese Fukubukuro
During the Japanese New Year, celebrated on Jan. 1, stores will sell grab bags called "fukubukuro" as a way to drive holiday sales and thank their customers.
All types of stores, from confectionery and cosmetic stores to Apple Stores and luxury boutiques, offer the bags, which can range from $10 to hundreds of dollars. Customers buy the bags without knowing their contents, though they tend to be heavily discounted.
#Chinese Lantern Festival
To close Lunar New Year celebrations, Chinese communities host the Lantern Festival — a night-time celebration marked with lanterns ranging from simple hand-carried paper boxes to stories-high intricate animal and plant shapes — 15 days after New Year festivities begin.
Following the Lantern Festivals, Lunar New Year decorations are put away and the taboos associated with the holiday end.
#Dish of Six Tastes
During the Telugu New Year celebration in Northern India, it is customary to eat "ugadi pachadi," a dish with the six tastes — bitterness, sweetness, spiciness, saltiness, sourness, and tang. The tastes represent the six emotions in life — sadness, happiness, anger, fear, disgust, and surprise respectively — which must all be experienced equally.
#Cattle Celebration
During the New Year celebrations of "Bohag" or "Rangali Bihu" in the Assam region of India, the cattle in town are brought to a source of water to be bathed with herbs. Following the bath, the cattle are brought back to their ranches, where they are given new harnesses and fed assorted vegetables and confectionery.
#Travel during Seollal
During the Korean New Year celebration of "Seollal," travel in the country becomes incredibly difficult to book as people return to the cities of their birth to celebrate. Families make arrangements months in advance, and travel by car can take between two and four times as long as normal due to the increased volume.
#Bali Day of Silence
The island of Bali in Indonesia is a major tourist attraction, but on March 28, 2017, it will observe"Nyepi," a Hindu day of silence on the third day of its six-day New Year's celebration. Nyepi is reserved as a day of self-reflection. During that day, no flights are scheduled to go in or out of Ngurah Rai International Airport.
On the island, hotels cover their windows, shops close, no fires are lit, televisions are turned off, no work is done, and lights are turned low.
Following the day of silence, youth in the Sesetan village in Denpasar, Bali, participate in a kissing ritual called omed-omedan. During the ritual, the youths line the street, and young men pull women in to kiss them. The pair are then doused in water and separated.
#Nonagathe in Sri Lanka
During the Sri Lanka New Year festival of Aluth Avurudda, there is a period of roughly 12 hours called "nonagathe," when the sun makes its way between two different constellations. That period of time is considered to fall neither in the old year or the new year. During nonagathe, revelers refrain from any work out of the belief that it will amount to nothing, instead saying prayers and attending houses of worship.
#Bhutanese Archery Competitions
In addition to family, feasting, and cleaning of the home, Bhutan celebrates its New Year by hosting competitions in archery, the country's national sport. Bhutanese archers compete wearing traditional clothing but are allowed to wear athletic shoes and use modern compound bows, though not modern bow sights or triggers.
#First Visitors during Tết
In Vietnam, the first visitor to a home or business during the New Year, a practice called "xông đất," is symbolic of the type of luck that that entity can expect for the rest of the year.
Traditionally, households would invite high-standing members of the community to visit, but recently, services have started that hire out visitors who dress up as certain characters or have certain lucky astrological signs.
#No Buying Books or Shoes
In Cantonese-speaking regions of China, it is unlucky to buy shoes or books during the Lunar New Year period because the words for "shoes" are a near homonym to the word for "rough" and the word for "books" are a near homonym to the word for "losing."
#Mochitsuki
One of the most wide spread events during the Japanese New Year is the making of mochi rice cakes using traditional methods. Sweet rice is soaked in water overnight and cooked then beat by a team using large wooden mallets called "kine" and a stone mortar called "usu."
The tradition has made it to much of the United States, with demonstrations held annually in or near large Japanese-American communities.
#Kongsi Raya
Malaysia is one of the most diverse countries in Asia, with a majority Muslim population and large Chinese- and Indian-descended minorities. The country celebrates the Lunar New Year and Deepavali, as well as Islamic festivals and has a penchant of combining the secular elements of the celebrations when they fall on near similar dates. During the 90s, the country celebrated Kongsi Raya, a celebration of the Chinese New Year and the end of Ramadan.
#Japanese Castle Cleaning
Prior to the New Year, Kumamoto City in Southwest Japan hosts a ritual cleaning of its restored 400-year-old castle. Men dressed as samurai invite tourists and community members to sweep away dust using 24-foot-long stalks of bamboo with leaves still intact. The event is accompanied by a city mascot wearing a castle costume, which children also dust.
During the New Year, the castle is open to the public to tour.
#2018 Calendar
January
1
Japan — Shōgatsu
February
16
China, Malaysia, Indonesia — Chinese New Year
Korea — Seollal
Vietnam — Tết Nguyên Đán
Mongolia — Tsagaan Sar
Tibet, Bhutan, Nepal — Losar
March
18
Deccan region of India — Ugadi
Maharashtrian people of India — Gudi Patwha
Followers of Sanamahism in India — Sajibu nongma panba
19
Sindhi people of India and Pakistan — Cheti Chand
April
13
Thailand — Songkran
Myanmar — Thingyan
Cambodia — Chaul Chnam Thmey
Laos — Pi Mai, Songkran
14
Odia people of India — Pana Sankranti
Punjab in India — Vaisakhi
Assam people of India — Bohag / Roongali Bihu
Nepal — Nepali New Year
Mithali people of India and Nepal — Jude Sheetal
Kerala in India — Vishu
Tamil people of India — Puthandu
Bangladesh — Pohela Boishakh
Sri Lanka — Aluth Avurudda
September
11
Indonesia, Malaysia — Islamic New Year
November
7
Marwari and Gujarati people of India — Diwali
Follow NBC Asian America on Facebook, Twitter, Instagram, and Tumblr.