Apple offers a ($29) fix for slowed-down iPhones
Comments
By Alyssa Newcomb with NBC News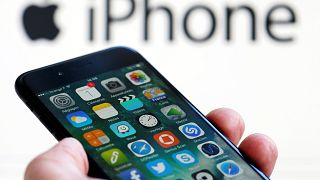 Copyright

Regis Duvignau Reuters file

-
In a letter to customers on Thursday, Apple apologized for the "misunderstanding" around a practice that can slow down older iPhones and said it would offer $29 battery replacements for one year.
"We know that some of you feel Apple has let you down. We apologize," Apple's letter said. "There's been a lot of misunderstanding about this issue, so we would like to clarify and let you know about some changes we're making."
Related: Apple slowed iPhones, forcing owners to buy new ones, lawsuit claims
Beginning in January, and lasting through next December, customers with out of warranty iPhones, including the iPhone 6 and later, will be able to purchase a replacement battery for $29 — $50 off the usual price.
Apple said it would provide more details in January about the battery offer.
The mea culpa comes afterlawsuits and the company's explanation earlier this month that it deploys software updates to compensate for degraded batteries in older iPhones.
Older batteries are "less capable of delivering peak energy loads, especially in a low state of charge," which can lead to unexpected shutdowns, according to Apple's letter.
While Apple's fix helped solve the issue of sudden shutdowns, the company acknowledged customers may experience longer launch times for certain apps or other reductions in performance.
Apple also sought to put to rest longtime speculation that the company deliberately slowed down older iPhones as a tactic to get iPhone loyalists to buy newer iPhones and drive sales.
Related: Net neutrality supporters vow lawsuits in resistance to FCC vote
"We have never — and would never — do anything to intentionally shorten the life of any Apple product, or degrade the user experience to drive customer upgrades," the letter said. "Our goal has always been to create products that our customers love, and making iPhones last as long as possible is an important part of that."
In addition to the discounted battery offer, Apple said it also plans to roll out an iOS update early next year that will better allow iPhone owners to monitor the health of their battery and to understand if its affecting their phone's performance.