Critical medical evacuations begin in Ghouta, Syria
Comments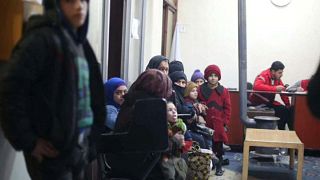 Medical evacuations are beginning in the rebel-held suburb of Ghouta in Syria, an area home to around 400,000 people.
The Syrian Government has allowed 500 of the most critically ill to leave. This number includes a number of children who require urgent medical treatment.
Organisations like the Red Cross moved into the city last night. The first 29 have been moved to hospitals in Damascus.
The Syrian Red Crescent said the evacuations have come about after "long negotiations" with Assad's regime.
As vehicles from the UN Humanitarian convoy entered the city the destruction caused by government shelling was clear.