Seeking justice in Europe for Syrian torture victims
Comments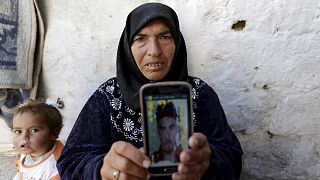 Editor's note: We are republishing this story, first published in December 2017, to mark the 7th anniversary of war in Syria
News from Syria is usually very grim, and yet there might be a glimmer of hope for Syrian victims of torture seeking justice in Europe thanks to universal jurisdiction, which allows Syrian victims of torture to file a criminal complaint outside Syria, in one of 20 countries around the world, including in a few in Europe.
This means that, say, a German court may prosecute a Syrian suspected of perpetrating war crimes.
In this edition of Insiders, Euronews reporter Hans von der Brelie speaks with Syrian survivors of torture who are seeking justice in Germany.
He meets key witness Yazan Awad and Syrian Human Rights lawyer Anwar al-Bunni in the Berlin-based European Center for Constitutional and Human Rights.
Syrian conflict
A peaceful resolution remains a distant prospect as peace talks regularly collapse and Russia-backed President Bashar Al-Assad refuses to step down.
So the war goes on and has already cost the lives of almost half a million people, and displaced millions within and outside Syria.
According to Amnesty International close to 20,000 Syrians have died while in government custody, and 75,000 have been disappeared by security forces.
Live updates from our Insiders team