Lorde cancels Israel concert under boycott pressure
Comments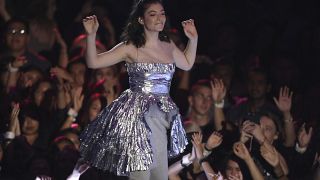 Copyright

Matt Sayles Matt Sayles/Invision/AP

-
Lorde has canceled a concert scheduled for Tel Aviv, Israel, on June 5 after criticism by anti-Israel activists urging continued boycotts of the country.
The "BDS" movement, which stands for boycott, divestment and sanctions, organizes social media campaigns to discourage artists from performing in Israel. It has seen some success (Elvis Costello, Thurston Moore and Lauryn Hill all canceled appearances in Israel), but it has also inspired rebuttals by the likes of Radiohead and Nick Cave.
Lorde's announcement, distributed on social media and by her booking agency, CAA, reads:
hey guys, so about this israel show - i've received an overwhelming number of messages & letters and have had a lot of discussions with people holding many views, and i think the right decision at this time is to cancel the show. i pride myself on being an informed young citizen, and i had done a lot of reading and sought a lot of opinions before deciding to book a show in tel aviv, but I'm not too proud to admit i didn't make the right call on this one. tel aviv, it's been a dream of mine to visit this beautiful part of the world for many years, and i'm truly sorry to reverse my commitment to come play for you. i hope one day we can all dance. L x
The response in Israel was vocal. The concert at Tel Aviv's 15,000-seat Convention Centre had seen swift ticket sales after only a few days of availability. In a statement to Variety, Israeli promoter Eran Arielli of Naranjah said: "We forgive her." He declined to comment further.
Related: Jerusalem violence puts damper on Christmas in Bethlehem
Israeli Culture Minister Miri Regev wrote: "Lorde, I'm hoping you can be a 'pure heroine,' like the title of your first album, be a heroine of pure culture, free from any foreign — and ridiculous — political considerations."
The organization Creative Community for Peace released a statement signed by several dozen musicians and music industry executives reading: "Artists should never become beholden to the political views of a small but loud minority. ... Lorde became the target of that wrath, and we're deeply disappointed that rather than rebuff the boycott movement and follow in the footsteps of Radiohead, Nick Cave, Lady Gaga, Rihanna, Justin Timberlake, and many other artists who have chosen to build #BridgesNotBoycotts, she canceled her show."
Related: Trump recognizes Jerusalem as Israel's capital, upending U.S. policy
Performance dates for two Russian cities — St. Petersberg and Moscow — remain on Lorde's tour schedule. As has been widely documented, Russia's anti-LGBT "gay propaganda law" has been denounced as discriminatory and an affront to human rights.