Hall of Famer Paul Kariya brought the NHL one of its first Asian stars
Comments
By Sheng Peng with NBC News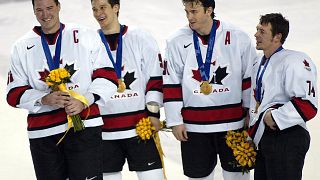 -
Copyright

Joe Bryksa Winnipeg Free Press via AP
TORONTO — Five months since he got the call from the Hockey Hall of Fame, Paul Kariya still hasn't thought much about being the first player of Asian descent to be enshrined.
"I try not to think about things in those type of terms," Kariya said in November. "I think of myself as a Canadian, first and foremost."
Regardless, the half-Japanese Kariya was a rare, exciting sight when he took the ice for his first National Hockey League (NHL) practice with the Mighty Ducks of Anaheim on Sept. 5, 1994.
Rare, because there had never been a star of his caliber with Asian heritage in league history, according to Color of Hockey, a website that tracks diversity in the sport. Exciting, because the 19-year-old was being called the "Wayne Gretzky of college hockey."
Kariya, selected fourth overall in the 1993 NHL draft from Maine University, appears to be the first player of Asian descent to be picked in the first round of a draft. After the 5'10" left winger, 282 players were called that year.
Very shifty, very speedy. His passing was exceptional.
Even CNN covered his seminal first practice, reporting, "It's possible no rookie has come into the league generating as much enthusiasm as Kariya has here in Anaheim."
About 9,000 fans witnessed Kariya's first steps at the then-Arrowhead Pond.
"In Anaheim, that was not the norm," Joe Sacco, who was Kariya's Mighty Ducks teammate from 1994 to 1998, said, laughing.
"Usually, we would get on the lower side of a 1,000," Jack Ferreira, the team's general manager from 1993 to 1998, said about opening day practices.
While data about how many Asian Americans attended this practice was not taken, Kariya's arrival and success struck a chord with the Greater Los Angeles area's growing Asian-American population.
The enthusiasm behind Kariya proved well-founded. Before retiring in 2011, he had appeared in seven All-Star games.
"Very shifty, very speedy. His passing was exceptional," Boston Bruins defenseman Zdeno Chara, who matched up against Kariya for over a decade, recalled.
Kathy Chung Thrash was a 15-year-old high school student in Arcadia, California, in 1996 when she noticed a new face while flipping channels.
"I only started following the Ducks when I saw that an Asian not only played on their team but was the captain," Thrash recalled.
She was one of many Asians to embrace the first hockey superstar who looked a little bit like themselves.
"There's a big Asian following for the Ducks because of him," Steve Rucchin, Kariya's teammate from 1994 to 2003, said.
Kariya is half-Japanese through his father, Tetsuhiko.
T.K. — as he was better known as — was born in a World War II-era incarceration camp in Greenwood, British Columbia, on Aug. 6, 1943. Paul's mother, Sharon, is Scottish-Canadian.
In 1998, Kariya told Sports Illustrated that the World War II incarceration of people of Japanese descent was not discussed in his family.
"It was never brought up at home. I remember being at my grandmother's when the checks came," Kariya reportedly told the magazine, referring to restitution checks. "Really, that was the first time anybody had said much about it."
I try not to think about things in those type of terms. I think of myself as a Canadian, first and foremost.
T.K. Kariya was an athletic trailblazer in his own right, but on the rugby pitch. He played fly half for the Canadian national team from 1967 to 1971. "There were none before him of Japanese or Asian lineage," Canadian rugby historian Doug Sturrock said about the team.
For Paul Kariya and his siblings — which includes two more professional hockey players, Steve and Martin, and a professional boxer, Noriko — there's no doubt where they received their athletic gene.
T.K. Kariya would become a high school math and physical education teacher, before passing away on Dec. 27, 2002.
"I wish my father was alive to see this," Kariya said after receiving his Hockey Hall of Fame ring. "I'm very proud of my Japanese heritage."
The now 43-year-old said he's learning Japanese as part of his recovery from the six known concussions he sustained during his playing career, which contributed to his retirement from the NHL.
"It's part of my brain training. Very difficult language to learn," he said.
"I did go to a Japanese school when I was 5 for a summer," he added, laughing. "It was challenging."
Since Kariya was plucked at the 1993 draft by the Mighty Ducks, a growing number of players with Asian heritage have been selected high. At the most recent draft, both Nick Suzuki and Kailer Yamamoto went in the first round.
Kariya predicted, "That's only going to grow in the future."
Follow NBC Asian America on Facebook, Twitter, Instagram and Tumblr.