Skiers trapped in broken down gondolas in the French Alps are dramatically rescued
Comments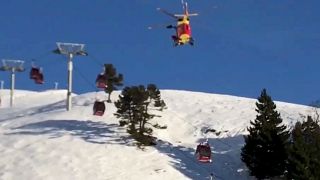 At least 160 people were stranded 25m (82ft) above the ground when the cable car system broke down at the ski resort of Chamrousse in the French Alps.
Videos shared on social media by those caught up in the incident show rescuers hanging on ropes from helicopters, swinging back and forth near the stationary bubbles.
After the rescuers reached the top of each gondola, they released the skiers through the roof hatch and lowered them to the ground.
The breakdown occurred at around 3pm local time on Christmas Eve and the rescue operation was complete by 17:30.
Two helicopters as well as numerous rescuers were drafted in.
One of the skiers described the experience as like "a rocking greenhouse" after being trapped inside a gondola for around two hours. 
Each gondola has space for about 10 people.
The cause of the breakdown to the ski lift, which was built in 2009 to replace a cable car and two chairlifts, isn't yet known.
The gondola connects the town of Chamrousse to the summit of the Croix de Chamrousse, 2,250m above sea level.
Fortunately the weather at the resort in Isère was good and no one was hurt.