Catalonia: Carles Puigdemont demands to return home
Comments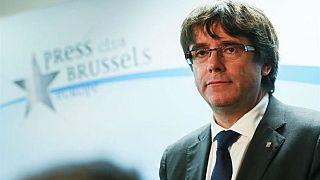 Two days after pro-independence parties secured a parliamentary majority in Catalonia, separatist leader Carles Puigdemont has called on the Spanish government to let him come home.
Puigdemont, who is currently in self-imposed exile in Belgium, faces possible arrest in Spain on charges of rebellion, but speaking on Saturday, he demanded Madrid allow him to return in time for the opening session of the newu Catalan parliament.
"I want to come back to Catalonia as soon as possible. It would be good news, not only for my family, obviously, and not only for Catalonia, but also for Spain. It would be very good news for Spain and Spanish democracy, to recognise and restore the democratic legality which the Spanish Government put on hold. I am still, and have not stopped being, the president of the regional government," Puigdemont said.
On Friday, Spanish Prime Minister Mariano Rajoy said he was open to dialogue but implicitly rejected Puigdemont's demand to meet soon.
"The government of Spain would like to offer all its cooperation and all its willingness for a constructive, open and realistic dialogue. But always within the rule of the law,"Rajoy said.
Rajoy has also made it clear that he expects to speak to Inès Arrimadas of the centre-right Citizens Party (Ciudadanos) first.
Her unionist movement exceeded all expectations in Thursday's regional poll by winning the most votes.
Arrimadas, however, does not have enough seats or the allies to form a government, with separatist parties holding a narrow majority.
For now at least the political uncertainty which has dogged Catalonia for months is sure to last well into the New Year, with talks to form a new government not expected to start until after the holiday break on January 6.