Holding lumps of coal, Dems demand GOP reauthorize CHIP
Comments
By Elizabeth Chuck with NBC News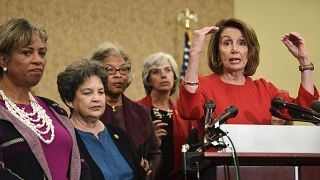 -
Gripping lumps of coal, Democratic lawmakers on Wednesday demanded Republicans act before the holidays to reauthorize coverage for millions of children in low-income families whose health insurance is at risk of running out.
Speaking a day after lawmakers passed a Republican-led tax bill that many say will primarily benefit the ultra-wealthy, members of the Democratic Women's Working Group and House Minority Leader Nancy Pelosi, D-Calif., slammed the GOP.
"This is the ultimate bad Christmas carol story. This may be the most shameful day in the history of Congress," Rep. Jackie Speier, D-Calif., said at a news conference.
"What we're doing here today is basically saying, 'Wealthy Americans, big fat Christmas present for you; Tiny Tim, we're taking your crutch away from you and all the other kids in this country, and we're putting a lump of coal into your Christmas stocking,'" Speier added.
Legislators missed the Sept. 30 deadline to renew the Children's Health Insurance Program, or CHIP, a federal program that provides inexpensive health insurance to 9 million children and pregnant women who don't qualify for Medicaid yet can't afford private insurance.
The program has enjoyed bipartisan support since its inception in 1997, but this year, legislators let the deadline for reauthorizing CHIP pass as they bickered over other health care issues, primarily the latest Republican-led push to repeal and replace the Affordable Care Act.
Related: Millions of kids may lose health insurance over missed deadline by Congress
That's left working-poor families in an unprecedented situation. Numerous states have already sent out notices to CHIP recipients warning them that funds will run out as early as next month, and that they will have to shutter the program if Congress doesn't act.
"We must do it very soon," Pelosi said Wednesday. "All of these children are our children. They're America's children."
CHIP covers everything from routine check-ups and immunizations to treatment for more serious diagnoses.
Experts say the program's payoffs, especially combined with Medicaid efforts, have been astounding. They cite Census Bureau data that shows that the rate of uninsured children in the U.S. in the past 20 years has dropped from 14 to about 4.5 percent — a historic low.
Pelosi said Wednesday that a "CHIP patch," or short-term solution, was being discussed, but she urged Congress to do a full reauthorization.
Brenda Lawrence, vice chair of the Democratic Women's Working Group, accused Republicans of using "CHIP as a pawn in year-end negotiations and holding millions of children and desperate families hostage."
"Republicans, put the coal back in your pocket," Lawrence said, "and let's give America a gift for Christmas."