Crucial Catalan election too close to call
Comments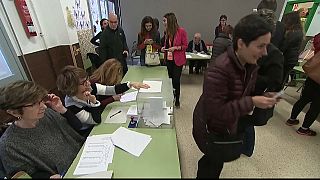 -
Polls have opened in Catalonia in a regional election which the Spanish government hopes will strip pro-independence parties of their control of the Catalan parliament.
There's expected to be a record turnout - but none of the six parties in the Catalan parliament are expected to get anywhere near the 68-seat majority figure by themselves
And they range across the ideological spectrum from separatist Marxists to the Catalan wing of Prime Minister Mariano Rajoy's conservative People's Party.
So analysts expect weeks of coalition talks between political parties if the vote is inconclusive.
If there is a pro-independence majority that will create more political problems for Rajoy and it will also hit financial markets as well.
Rajoy called the vote back in October in the hopes of returning Catalonia to "normality" under a unionist government.
He then sacked the previous government for holding what was a banned referendum and declaring independence.
Catalonia is the main driver of Spain's economic growth and has an economy that's larger than Portugal's, so a win for the separatists would likely damage the confidence of investors.
But recently pro-independence leaders have backed away from demands for unilateral secession.
The independence campaign put Spain into its worst political turmoil since the collapse of fascist rule in the 1970s.
It's polarised public opinion and slowed Spain's economic rebound.
And it's also prompted a business exodus from Catalonia to other parts of the country.