Congolese fashion designer says: wear a condom
Comments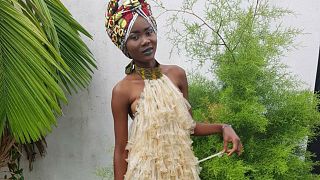 A Congolese designer has taken to the fight against AIDS by creating a fashion range made from condoms.
Felicite Luwungu says she wants to deliver a safe sex message through her creations, which include strapless evening gowns, tops and skirts.
Congo has one of the lowest rates of HIV, the virus that causes AIDS in southern and central Africa, according to UNAIDS data. However taboos about using contraception remain.
Luwungu, who has been making the garments for more than two years, says it took her family a while to get used to the idea but they now are fans of her work. She wants to show her designs at a fashion show in the capital, Kinshasa.